Welcome to Newkirk Plaza: Subway Station & Shopping Mall!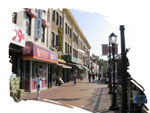 Newkirk Plaza - the oldest open-air shopping mall in the country - is above the Newkirk Plaza subway station between Newkirk and Foster Avenues.
Newkirk Plaza - America's first shopping mall - was opened on August 23, 1907. In Victorian Flatbush, Brooklyn's Newkirk Plaza sits a top the Q and B ground-level subway tracks that wend their way from Manhattan to Brighton Beach.

Newkirk Plaza is the primary commercial area and transportation hub for the southern neighborhoods. A one-of-a-kind retail are constructed above a partly exposed subway station with the buildings facing the station house, the Newkirk Plaza is a open-air retail mall.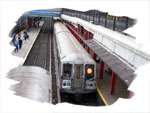 A wide variety of mostly family-owned store face each other along both sides of the mall.

The Brighton Beach subway line runs in the open air trench below it. The entrance to the Newkirk Plaza station is at the center of the mall. Bus "B8" runs via Foster Avenue.

Because the Newkirk Plaza is such a unique area, infrastructure projects took serious consideration. NYC Transit owns the deck and station, DOT owns the bridge ends and individuals own the buildings surrounding the Newkirk PLaza.



Today, after almost one hundred years, the Newkirk Plaza Shopping mall had a major renovation and rejuvenation. After completing the rehabilitated space serves as both a local shopping center and a place for outdoor community events.

Years ago, FDC secured funding for a streetscape replete with a decorative wrought-iron-fence, lighting, colorful banners, benches, bike racks and planters. The project was completed in 2007, but MTA reconstruction plans slated for the Fall of 2008, have left the project half-way done.

The Stretscape project for the Newkirk Plaza is now slated to be complete by Spring of 2011.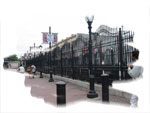 The Newkirk Plaza Merchants Association (NPMA) also collects dues to maintain the Plaza called Project Sweep. In addition to this service, NPMA secured a firm commitment from the commander of the 70th Precinct that the Newkirk Plaza be a permanent foot-post.

FDC, NPMA, and Newkirk-Foster area merchants are partners in developing and ensuring the Plaza and the surrounding neighborhood remains the gem that it is.

To this end, FDC with the support of NYC Small Business Services (SBS), and NPMA are assessing the feasibility of creating a Business Improvement District (BID) for the Newkirk Area.