Subway Station: B / Q Trains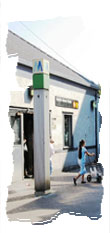 Newkirk Avenue is an station on the BMT Brighton Line of the New York City Subway, served by the Q train (all times), and by the B train (weekdays).

It is located in the center of a pioneering Shopping Mall known as "Newkirk Plaza," bounded by Newkirk Avenue on the north, Foster Avenue on the south, and Marlborough Road and East 16th Street on the west and east, respectively, in the community of Flatbush, Brooklyn, New York City.

The station is located in an open cut beneath the street surface. The station is at ground level, spanning the express tracks.

It was opened around 1900 as a two-track surface station named South Midwood, a reference to its location at the southern end of the former Town of Flatbush, which was also historically known as Midwood.

Currently, Midwood is considered to be the area south of where the station now stands, so it would now more correctly be described as being in South Flatbush or North Midwood.

When on the surface, the station was a division point at which short-lined elevated trains of the Fulton Street Elevated lines terminated. After grade crossings were eliminated c. 1907 the station became a through stop for all services; at this time it was renamed "Newkirk Avenue."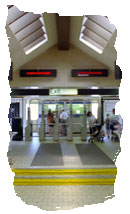 The Newkirk Avenue subway station and aboveground Shopping Plaza began rehabilitation in 2009.

This project is to rehabilitate the Newkirk Avenue subway station and replace the Newkirk Plaza, the public space above the station's right of way.

The work at this station is to be coordinated with the rehabilitation projects at the other Brighton Line stations: Avenue H, Avenue J, Avenue M, Avenue U, Kings Highway, and Neck Road.

Completion: Winter 2011 / Range of cost for this project: Approximately $ 30 million.

The scope work at the Newkirk Station includes the following tasks:
- Remove the existing leaking slab that serves as the public plaza at street level and the roof of the station at platform level
- Construct new deck/subway roof slab with a waterproof membrane and paving
- Construct minor repairs to the station control house
- Repair station canopies as required
- Rehabilitate station platform stairs
- Construct one exit-only stair with exit wheels and gates at the southbound platform
- Construct structural repairs to the station platform, columns, beams, deck, framing and platform slab
- Incorporate progressive ADA elements where applicable (not including ADA elevators)




MTA New York City Transitís construction projects along the Brighton line in Brooklyn will affect subway service over the next two years.

During construction there will be no express service as we work to rehabilitate seven stations along the line.

Plan your trip in advance with Plan & Ride.